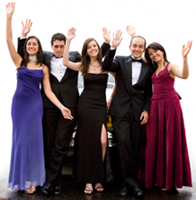 Comedy Night Live! is the perfect entertainment choice for many types of private celebrations and special events including...
Birthdays

Anniversaries

Holiday Parties

Weddings

Bar & Bat Mitzvahs

Banquets

Bachelorette Parties

Sororities & Fraternities

Rush Week Events

Reunions

Clubs

Associations
and many other types of personal or private events

Many special events and celebrations rely on live entertainment to bring guests together to share in the celebration and our Comedy Night Live! is a performance that can be enjoyed by guests of all ages while offering a fun interactive performance that keeps guests around for the entire event. Everyone enjoys comedy and laughter, and this feature performance is adaptable to many types of celebration events, formal or casual, and is more appealing that most other types of entertainment that can often create a division among guests. You'll feel confident knowing that everyone will be enjoying your celebration together while creating fun memories.