Comedy Night Live! has been hosting and producing live stand-up comedy and feature comedy performances since 1983 appearing nearly everywhere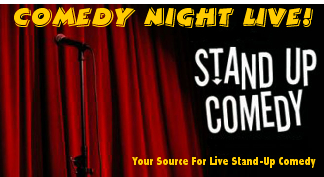 across America from comedy clubs, night clubs and theaters & performing arts centers, to corporate events, fundraisers and schools in live performances resulting in over a million laughs and still counting. We proudly feature the best local, regional and national touring comedians, comedy performers and celebrity personalities that have been featured at top comedy clubs and venues, as well as on HBO, Showtime, Comedy Central, MTV, A&E, ABC, NBC, CBS & FOX t.v., including performances on The Tonight Show, Late Show With David Letterman, The Oprah Winfrey Show and a host of the most popular talkshows from the past four decades that you know by name - Conan O'Brien, Craig Ferguson, Ellen, Rosie, Rikki Lake, Jenny Jones, and many more.
Specializing in producing live comedy shows, we understand the needs of the many venues we play and the clients who have trusted us with their entertainment needs. From small clubs and corporate events to major theaters, festivals and television, we understand all facets of hosting and producing live comedy events.
We work directly with your staff to guide you in all facets of hosting and promoting our live events including..
♦ Pre-Production & Planning
♦ Selecting & Booking The Best Feature Performance & Talent For Your Event
♦ Production
♦ Staging
♦ Promotion
♦ Media Coverage
♦ Staff Education, Guidence & Assistance
♦ Post-Production
and much, much more, combined with a wealth of insider knowledge that only comes with years of real-world experience that can allow you to bring success to your performances and events.
For venues interested in establishing themselves as a live comedy venue or hosting live stand-up comedy as part of their current entertainment offerings, Comedy Night Live! has the knowledge, experience and talent to help establish yourself are the comedy venue in your area.